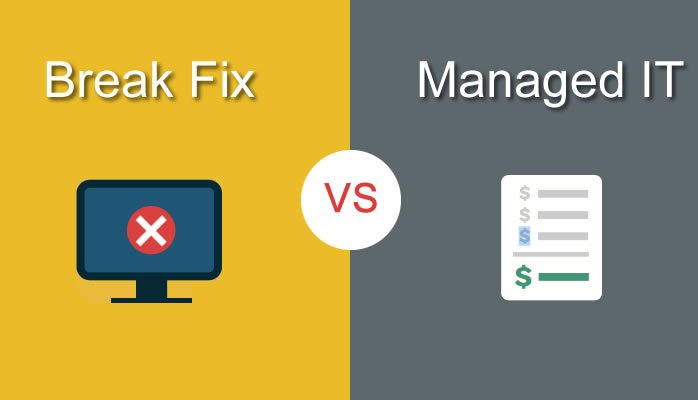 Two main categories of service from an IT service provider are managed services (contracts) and break-fix servicing. Break-fix servicing can be an attractive option to small businesses as they believe they are saving money by not paying for continuous service when things aren't broken. However, small businesses can greatly benefit both financially and operationally from a managed services plan.
What is Break-fix?
Break-fix is a service that operates by its name when things break you look for someone to fix it. Generally, MSPs today try to avoid this service because it puts the service provider and the client at a disadvantage. It takes technicians time to learn and understand their client's environment before they can start to fix issues. This can leave a client with a large bill at the end of support with no guarantee the issue will not happen again.
Break-fix Fall in Popularity
There has been a fall in popularity of the break-fix service model. According to TechTarget, this is due to the criticism of the reactive approach to caring for clients' IT systems. Break-fix companies can see a greater financial gain from fixing IT systems rather than preventing issues from occurring in the first place. It can be frustrating to clients to pay the same or more in break-fix services but not reap the benefits of proactive IT care.
Advantages of Managed Services
Having a monthly managed services plan offers more benefits than break-fix plans. For one, you get dedicated technicians who constantly learn and monitor your environment. Technicians who know your environment can accurately and quickly identify issues and provide a resolution. That resolution will be documented for future reference as well as for proactive care to your IT systems. If the issue occurs often, your MSP can and will develop a solution to avoid multiple occurrences of the same issue. The managed services model relies on stable infrastructure to work. It is in the providers best interest to provide services and automation to prevent issues from arising in the first place. That type of service simply does not happen in a break-fix service model.
If your business is looking for proactive and complete care of your IT systems, Contact Us today. 919 IT Solutions is committed to your systems and employees support when it comes to technology.