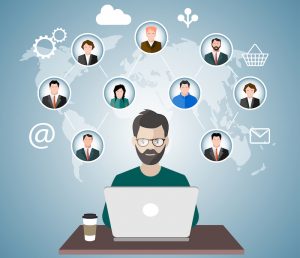 With the increase in popularity of cloud-based services and applications, businesses with a fully remote workforce are becoming more common. It's a popular option for online businesses, nonprofits, small businesses, and volunteer organizations – all members require to work is a device and an internet connection.  This allows for increased flexibility in work location, as well as cost savings for the business.   Managed Service Providers (MSPs) like 919 IT Solutions have the resources necessary to consult, implement, and support IT solutions for your remote organization.
When it comes to remote organizations, the advantages of having an MSP are endless. With an MSP like 919 IT Solutions supporting your remote organization, you'll be relieved from acting as your own IT department. We can handle things like technology procurement, security consultation and training, remote monitoring, system maintenance and user support.
With remote organizations not having the security of a central office network and firewall,  security is a top priority.  We offer solutions to actively monitor and prevent malicious attacks, and also advise on best practices that keep your organization and members' data safe and secure.
User support is the heart and soul of any MSP to keep your organization running at peak efficiency. Enjoy the convenience of not wasting your work time solving IT issues. With 919 IT Solutions just send an email or call and our staff will troubleshoot and resolve issues for you. We have tools to easily remotely assist and provide one on one support to your members and users, leaving you more time to focus on your business.