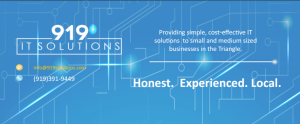 In a high-tech place like the Raleigh/Durham area, IT service providers are a dime a dozen.  When it comes to choosing a provider, there are many options with varying levels of service – it can be overwhelming.  Our slogan is "Honest. Experienced. Local", and we take it very seriously. Here are a few reasons why we think you will enjoy working with us:
Honesty
We've been on the other side of the table, so we know what it's like to work with a company/vendor who isn't open and honest.   Nothing is worse than feeling like you're paying for things that you don't actually need.  At 919, we take pride in openness and honesty, as well as our low-pressure sales process.  We treat our clients the way we'd want to be treated, and you will feel comfortable and confident working with us.
Experience
Unfortunately in the IT industry, there are no licensing requirements as there is with many other service providers. There are no educational requirements, and no limitations on who can start an IT Services company. Because of this, there is a very wide array of providers out there with varying levels of experience, and businesses seeking services should be aware of this. 919 IT Solutions has over 20 years of hands-on industry experience – not just in Managed Services, but enterprise IT, security, system administration, and DevOps.  We are not "geeks and nerds", we're experienced IT professionals. We're open with our work and industry experience – if you have any questions, just ask. To us transparency is important, and we think you will agree.
Local, Personalized Service
Managed Service Providers come in all shapes and sizes. Some are national, some are local. Some are very large, some are very small. 919 IT Solutions is a small local provider based out Cary, NC, and serving only the Triangle region of North Carolina. We don't have endless phone trees to navigate through. You'll hear familiar voices when you call, and see familiar faces in your office. It's a level of personalization that you won't get from other larger MSP's. We think this is important.